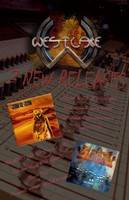 2 New Releases
Posted: Mar 14, 2023
On March 17th there will be 2 new Releases come out into the music world for all you MANIACS to listen too.
The first release we will talk about is GHOSTS OF SUNSET new opus "BREATHE". This release was Mixed and Mastered by our own Jeff Westlake for the band and Deko Entertainment. This album will be available everywhere you can buy music World Wide.
Next we will talk about the Digital and streaming release of THE MACHINEZ by Eric Moore's GODZ. This is the debut release from the band and its release to the digital and streaming world. The album has been available Physically since November of 2002. This one was produced by Jeff except for one track that was produced by Charlie Bonnet III.
Two Great releases that you need to hear. Go get yours!!!!